We have all faced victories at some point in our lives. Failure has come by, too, for some more than others. Being a Christian doesn't change the situation. But the Bible says that we're all victors in Christ.
The truth is we are all victors in CHRIST. Whether we are victors or losers in this world, it doesn't matter. The greater part of our lives has been decided and sealed. Let's look at it this way. If someone has promised to give you and your neighbor a billion dollars (and has given the cheque for it too) would you mind if your neighbor got a diamond ring too with his gift? Hey, you're a billionaire. What's in a diamond ring? Jesus was talking about something similar in the parable where all the laborers got the same wages at the end of the day even though some had worked for a longer time than others. "Is it not lawful of Me to do what I wish with what I own? Or is your eye envious because I'm generous?"* Imagine God saying that every time you question Him why the other person at church is more prosperous than you are. God pours out His grace because of His love – it's better not to question it.
I love what Jesus said to Peter (while talking to him in John 21). When Peter wanted to know what would happen to John in the future, Jesus responded "What is that to you? You follow me." Sometimes I wish that I could etch those words in gold and put it where all Christians could see it. It is God's intention that we follow Him whether we feel like losers or winners compared to others in this world. It doesn't count. So be truthful and faithful to the One who's put you where you are – whether you feel like you are taking care of sheep…. or ruling the whole of Israel. After all, YOU ARE A BILLIONARE. WHAT'S IN A DIAMOND RING????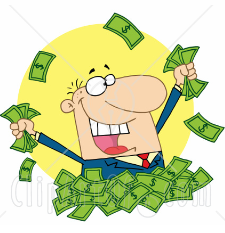 *in the 1st e.g., billion dollars – salvation, diamond ring – rewards in this life
In 2nd e.g., wage – salvation, hours of working – sufferings in life or the work you've done for the Lord